Michigan CCW / CPL Classes – NRA & SiGArms & DTI Certified Instructors for Concealed Carry or Handgun / Rifle / Shotgun Training  No refunds- Rescheduling with 7 day notice 
Male & Female Civilian, Military & Law Enforcement Trainers/Range Safety Officers
Update: As of February 2021- During Covid 19 Pandemic UPA continues to support our community. We are still open for Gun Transfers & Scheduling Classes & Memberships!  Call for Details!  Great News! We have ammo for training classes !Due to Nationwide Shortage of Ammo 1.Prices are subject to change. It's a commodity like gasoline & we sell by the round. 2.Severe Ammunition shortage-until 2022 our suppliers told us. 3. You can bring your own Factory Lead Free Ammo for our approval.
586-286-SAFE (7233) 
(1)Department of Homeland Security includes firearm manufacturing, distribution, retail and ranges as essential critical services.
(1) NEWTOWN, Conn. — The National Shooting Sports Foundation® (NSSF®), the trade association for the firearm and ammunition industry, is grateful for the Department of Homeland Security's (DHS) inclusion of the firearm industry's manufacturing, distribution, retail and range businesses
(2) Macomb County won't issue mask mandate   Charles E. Ramirez  The Detroit News
Mount Clemens — Macomb County's top executive said Monday the county is not issuing a mandate requiring its residents to wear masks or facial coverings due to the COVID-19 pandemic.
(3) The Macomb County Sheriff's Office posted on Facebook Monday that they encourage everyone to wear a mask, but they will not be issuing citations if a person chooses to not wear a mask.
(4) UPA utilizes daily through its Heating and Cooling System an Air Cleaning Machine that eliminates Viruses, Germs and Mold; upon interviews with up to 80 Professional Medical Personnel, UPA is the only one of any Medical Facility that they work that has this Essential Health Device.
(5) UPA is not a Public Indoor Academy-Range, but private with "Trainees"or "Members", has NO Customers,  NO EMPLOYEES: only Volunteers, Adjunct Instructors and Owners; with Lobby Only for Walk-Ins.
(6) UPA Regularly sanitizes, Cleans and Maintains this Sanitary / Healthy Facility and is consistently monitoring with upgrades for everyone's Health and Safety.
(7)UPA understands that anyone entering its private Academy may be 'Medically Intolerant'  to wearing a Mask and may chose 'not to do so'. Copious amounts of information supporting UPA's Premier Health and Safety Procedures are contained in our "Covid Response Plan" on premises.
Since 1995: CCW / CPL Class –Indoor Range Concealed Carry Class & Now Lead Free!
For 26 Years, The Only Range Owners
who teach the Entire Course
(No Outsiders or Revolving Door Instructors) No refunds, rescheduling with 7 day notice

 Group Discounts Available-Limited Time
1-Day or 2 Day: 8-HOUR – 1 Location!
Book Now – New Applicants
Select Weekdays/Weekends for Michigan Concealed
Carry CCW / CPL Permit New Applicants & Renewal Permit Classes available at Ultimate Protection: Michigan's Only Commercial Lead-Free Indoor Tactical Range* NO REFUNDS FOR TRAINING. Rescheduling with 7 day notice. 
Valid for ALL 83 Michigan counties! Our Courses are State Compliant: At Least 5 Hours of Classroom and AT LEAST 3 HOURS OF RANGE INSTRUCTION ON A LIVE FIRE RANGE! Beware of those courses that you are not on a live fire range for at least 3 hours to meet Michigan Minimum Requirements to avoid a Felony!
"With the most 5 Star Google Reviews in the Metro Detroit Tri-County Area of Indoor Ranges/CCW-CPL Classes!"**
Michigan CPL RENEWAL classes held the same days as standard classes – first 3 hours of each class and 1 hour on Live Fire Range! No refunds-rescheduling with 7 day notice 
Book Now – Renewals
*Lead Free Exposure
**To the best of our knowledge

2010 Detroit Local Channel Four News Feature

1996 Detroit Local Channel Four News Feature
Michigan's ICONIC ULTIMATE Protection Firearm Academy and Indoor Lead Free Range – Clinton Township, MI
Guntry Club ™ & Anytime Range ™
ULTIMATE Firearm Academy and Indoor Range, is Mary and Allen Polkowski's newest Gun Range after financing, designing and building two others in Chesterfield Township, Michigan. After many years of successful operation of the other two ranges, the Polkowski's, with having no longer any financial interest in the other ranges they built; they now concentrate their focus entirely on their Brand New State of the Art Indoor Lead Free Range and Training Center: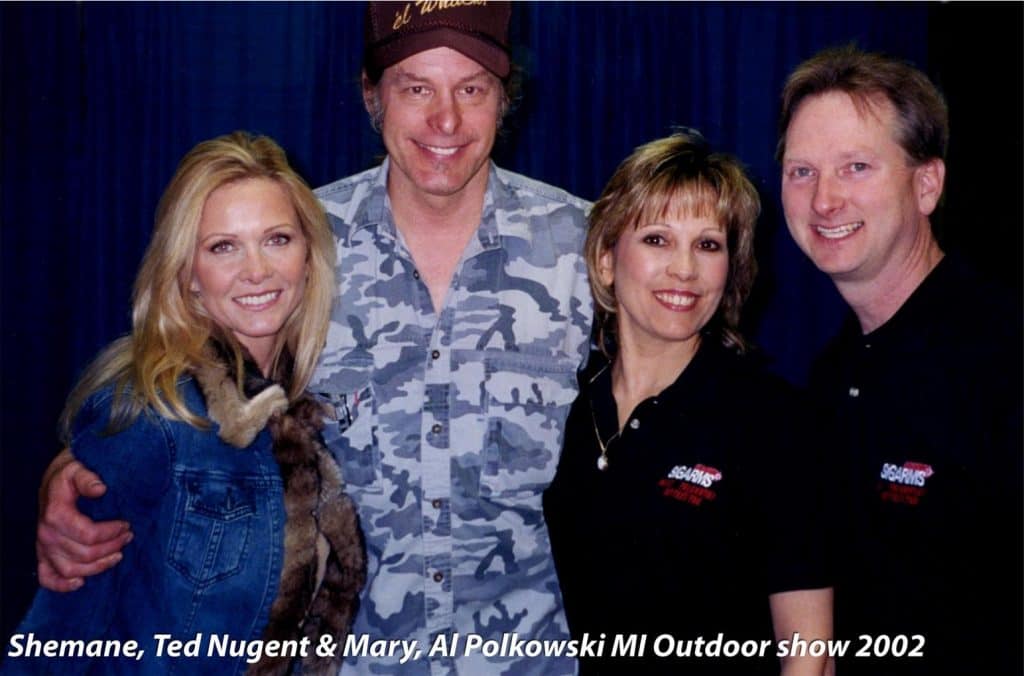 "They have dedicated their lives to training. Mary is the greatest trainer, to my knowledge, in Michigan. You can find Mary and Allen Polkowski at ccwtraining.com….. come and meet them and be a real American capable of safeguarding the streets of this great state." -Ted Nugent "as announced in 2002 on the Bob Bauer 'Camp Two Fires' Radio broadcast live at the Michigan Outdoorama, Novi, MI, 2002."
ULTIMATE Range is one of only two ranges in America where only Lead Free Ammunition** is allowed for the safety / health of participants and Professional Staff. It is the only indoor range with the most convenient, well-lit and safe parking surrounding the 4,000 square foot Training Center and Range in the Tri-County area.***
Female Instructor: Firearm Celebrity in Print and Electronic Media: Mary Polkowski, Law Enforcement Firearm Certified; is highly trained and experienced in training both women and men throughout the United States.
Male Instructors: Allen Polkowski and staff members are current and former Law Enforcement / Military Firearm Instructors who have taught, qualified the "on the street cop" as well as military troops.
Motto:
Your Safety and Health are our #1 Priority:
Peace of Mind Training! ™
Mission Statement:
Safety Centric, Competency Based, Family Friendly, & Community Focused
CCW/CPL Classes:
Since 1995, Ultimate Protection Firearms Training and Indoor Lead Free Range has been Training Michigan Concealed Carry Applicants longer than any MI/ CPL Team Training Instructors! Allen & Mary Polkowski No other CCW Training partnership has lasted that long.
 1-Day 8-Hour Classes including Free: Eye and Ear Protection, Materials, Coffee, Donuts, Range Fees and all at one location. We meet and exceed State law with 5 hours classroom and 3 hours firearm instruction on a shooting range. Caution: many do not!
Unlike the competition:
We provide smaller Student classes, large Instructor/Range Officer to student ratios.
Come join us with our newly remodeled rest rooms and interior building.
**Lead Free Exposure
***To The Best Of Our Knowledge
Ted Nugent & Mary before and during filming for national television special "Queen of the Forest" on location at Ted's MI ranch