Program Created by Ted Nugent
Ted says: "Take your kids hunting so you don't have to hunt for your kids."
Owners Mary & Al volunteered in 2000 for this outstanding 3 day camper/program.  Hunter's Safety & Bow Hunting Curriculum with nature conservation, done the way only Ted can create! For more information and contact numbers regarding the program call us.
KAMP FOR KIDS
"Take Your Kids Hunting So You Don't Have to Hunt for Your Kids!"
Ted Nugent Kamp for Kids
Gets youngsters off the streets, out of the malls
and into the great outdoors!
"I started our Kamp in 1989 with a simple goal—to introduce kids to the great outdoors," said founder Ted Nugent. "I made a promise to Fred Bear before he passed away that I would get kids involved. And here we are nearly 30 years later."
You make us proud!
Donations of sporting goods and supplies are now being accepted.  If you would like to sponsor a child, or make a tax-deductible contribution, make your check or money order payable to:  Ted Nugent Kamp for Kids, 4008 W. Michigan Avenue, Jackson, MI 49202.
BASIC INFO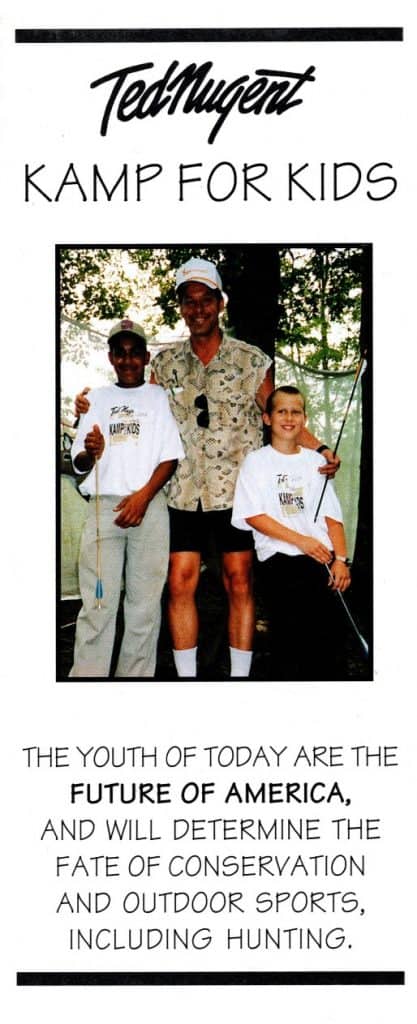 Ted Nugent Kamp for Kids was founded by Mr. Nugent in 1990. The Goal: To get kids out of the malls, off the streets, away from drugs and crime, and into the woods. It's where we belong, and the best place to teach a child about morals and ethics, and our role as caring humans to manage and respect the wildlife around us.
Originally focused on Archery, the Kamp for Kids has expanded to encompass many forms of outdoor recreation. Currently, Kamp sessions are a one day, 8 hour "immersion" event, taught in an outdoor class-format. Children aged 8-15 are taught the basics of Archery, Air guns, Fishing, Trapping, Sling Shots, Wildlife Calling, Outdoor Survival and First Aid, along with the history of man and beast coexisting. Kampers don't just listen to an instructor–they get to participate in these activities! Marksmanship fundamentals and SAFETY are the rule in everything we teach. Based on the thousands of letters we've received from past Kampers, each and every youngster leaves the Kamp as better, more informed, and more aware young person.
Above text content adapted from Ted Nugent and his Kamp for Kids marketing materials, and remains their copyright with all rights reserved. Video content copyright UPA.
https://www.tednugent.com/about/kamp-for-kids/
https://www.facebook.com/Ted-Nugent-Kamp-for-Kids-171887956193313/
Please click on images below to enlarge.