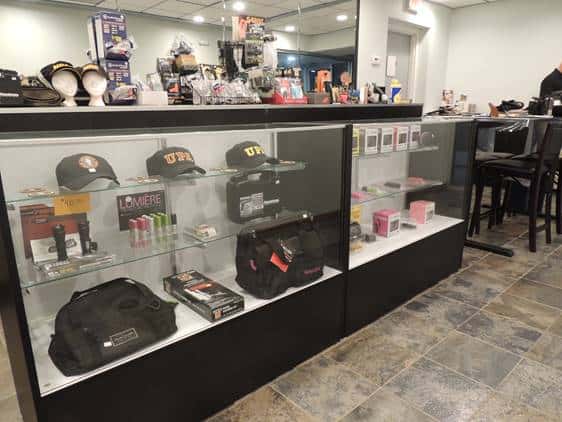 UPA Range has a practical, yet quality variety of firearm accessories, products and equipment for the beginner to advanced shooter. We also have a specialized inventory of hard-to-find items especially for women, with both comfort and style in mind. Youths are always included in the line-up of safety equipment considering most gun ranges do not cater to the young shooters; as this is our specialty!
Inventory on site is:
Including, but not limited to: eye / ear protection, magazine easy loaders, cleaning kits, fanny and purse concealed carrying leather goods, Pepper Spray Defense, Tactical Flashlights, ammunition and rifle optics by Tasco.
UPA Logo Hats and Apparel are always a favorite.
If you don't see what you need or want, we probably can order it for you or suggest a convenient on line retailer for fast and cost saving service.
Special purchases of popular handguns are sometimes in stock: call for availability.
New and Used gun sales are done conveniently with discounted pricing through our listing of reputable On Line Gun Retailers that making shopping local for guns obsolete as well as unnecessarily expensive. Of course, we are your "Go –To" FFL Dealer for those on line sales, as firearms must be transferred from that state gun dealer to us. Please see our MERCHANDISE menu on this web site for details.
Don't forget! Members always get discounts on retail sales (excluding firearms) and can use their UPA REWARDS CARD for additional discounts!
A great way to show you care or need a gift for that 'hard to buy for' someone special is our Gift Card. Available on this Menu Drop Down!